Just got through reading The Gunslinger by Stephen King. And with that I'm done with 16 books of my 2016 list. I have accepted that I am the quintessential bookworm. Curling in my bed with a good read and a good drink, trumps getting smashed in bars with friends any day. I think enduring habits like these come from special places in our childhood. These moments are sacred. Treasured.
My pivotal period was from when I was 8. It was at the home of my oldest pal. They had over a hundred books housed within many, many bookshelves. I think his mom was trying hard to get them to start reading. Instead, she had me over every single evening. I would religiously spend hours in their room conquering the 'book vault', one tome at a time. In these books were miniature novels called Moby Books.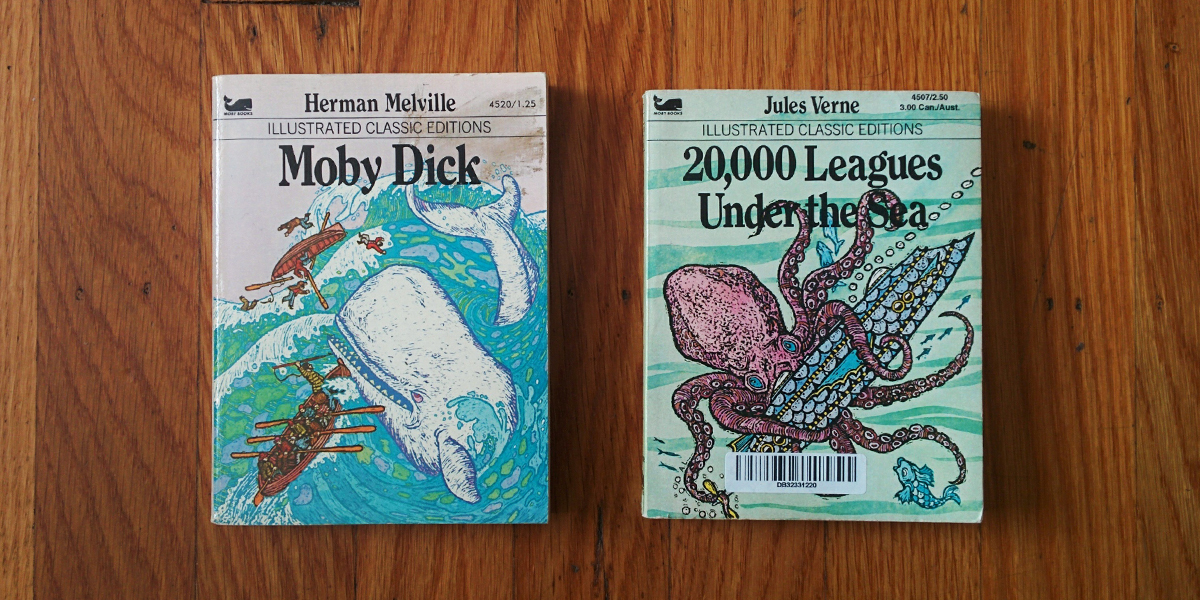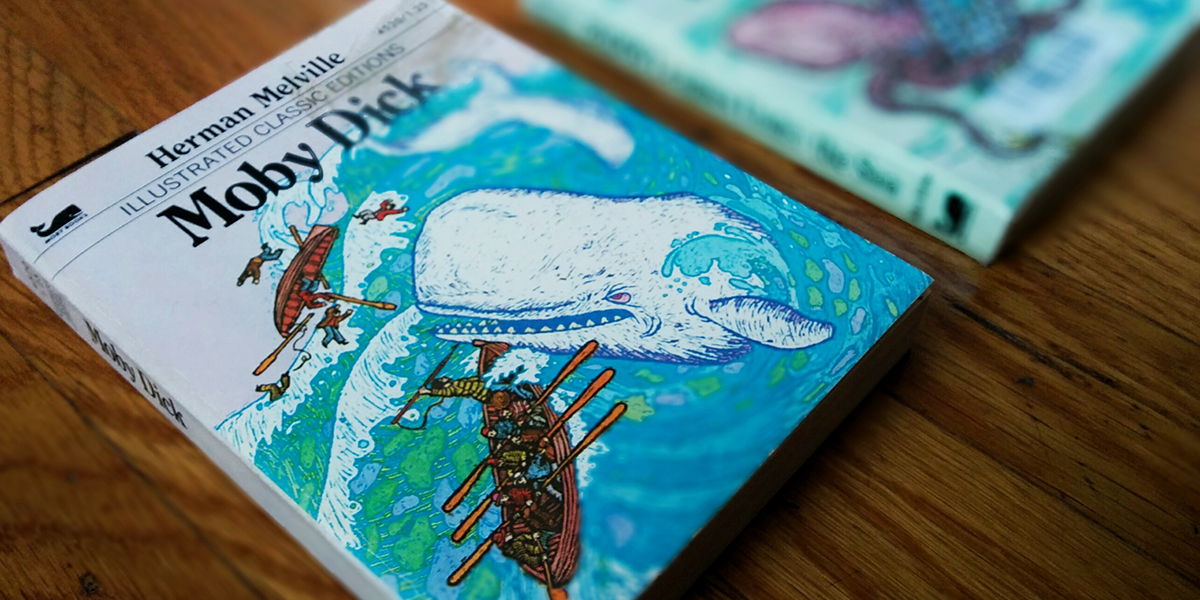 These books were a thing of beauty. The language was easy,  and each page came with a detailed illustration. My first introduction to these novels was Moby Dick. Within a span of a few chapters, I fell in love with characters like Queequeg, Starbucks and Stubb and imagined myself a daring voyager ready to set sail and conquer the seven seas. There came a time when I'd barely pause when one book ended and another began. Within the span of a few months, I had gone through forty eight of these classic novels.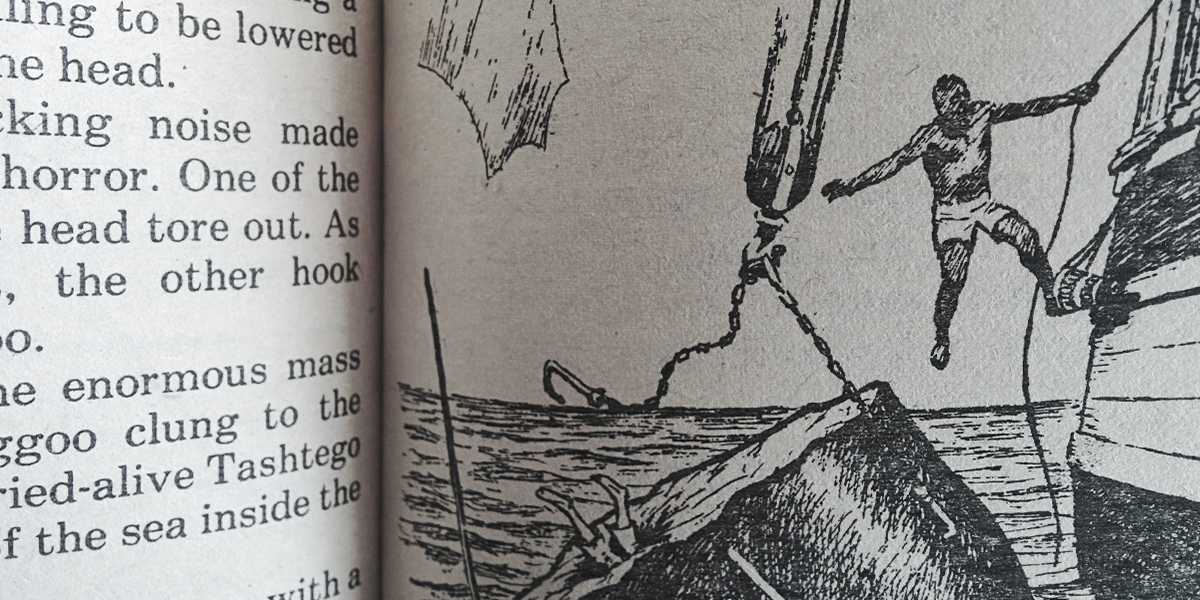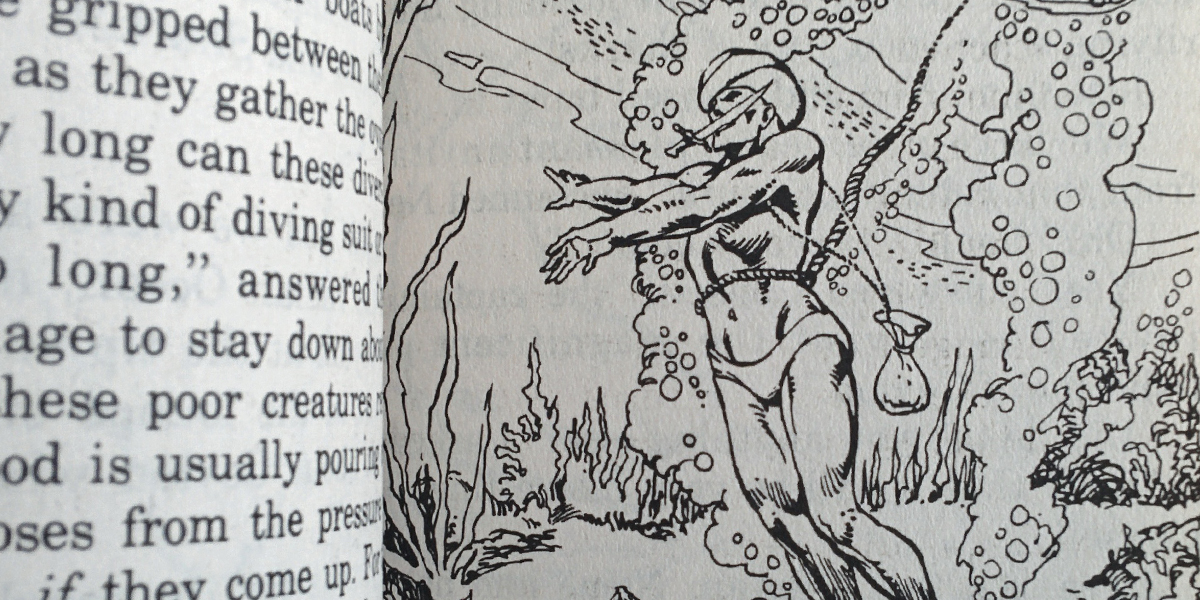 I've grown older, but the nostalgia persists. Now I find myself slowly but surely building up the library that nurtured my fantasy as a child. It also helps to have a wife who grew up without reading any of the children classics. This is my way of introducing her to my childhood.
List of Titles:
Catalog No./Title/Author/Publishing Date
| | | | |
| --- | --- | --- | --- |
| 4501 | Wizard of Oz, The | Baum, L. Frank | 1977 |
| 4502 | Sherlock Holmes and the Case of the Hound of the Baskervilles | Doyle, A. Conan | 1977 |
| 4503 | Adventures of Robinson Crusoe, The | Defoe, Daniel | 1977 |
| 4504 | Black Beauty | Sewell, Anna | 1977 |
| 4505 | Kidnapped | Stevenson, Robert Louis | 1977 |
| 4506 | Connecticut Yankee in King Arthur's Court, A | Twain, Mark | 1977 |
| 4507 | 20,000 Leagues Under the Sea | Verne, Jules | 1977 |
| 4508 | Heidi | Spyri, Johanna | 1977 |
| 4509 | Three Musketeers, The | Dumas, Alexandre | 1977 |
| 4510 | Treasure Island | Stevenson, Robert Louis | 1977 |
| 4511 | Little Women | Alcott, Louisa May | 1977 |
| 4512 | Around the World in 80 Days | Verne, Jules | 1977 |
| 4513 | Merry Adventures of Robin Hood, The | Pyle, Howard | 1979 |
| 4514 | Adventures of Tom Sawyer, The | Twain, Mark | 1979 |
| 4515 | Call of the Wild, The | London, Jack | 1979 |
| 4516 | Adventures of Huckleberry Finn, The | Twain, Mark | 1979 |
| 4517 | Oliver Twist | Dickens, Charles | 1979 |
| 4518 | David Copperfield | Dickens, Charles | 1979 |
| 4519 | Count of Monte Cristo, The | Dumas, Alexandre | 1979 |
| 4520 | Moby Dick | Melville, Herman | 1979 |
| 4521 | Last of the Mohicans, The | Cooper, James Fenimore | 1979 |
| 4522 | Mutiny on Board H.M.S. Bounty | Bligh, William | 1979 |
| 4523 | Oregon Trail, The | Parkman, Francis | 1979 |
| 4524 | Tales of Mystery and Terror | Poe, Edgar Allan | 1979 |
| 4525 | Ben-Hur | Wallace, Lew | 1983 |
| 4526 | Adventures of Sherlock Holmes, The | Doyle, A. Conan | 1983 |
| 4527 | Swiss Family Robinson, The | Wyss, Johann | 1983 |
| 4528 | Journey to the Center of the Earth, A | Verne, Jules | 1983 |
| 4529 | War of the Worlds | Wells, H.G. | 1983 |
| 4530 | Time Machine, The | Wells, H.G. | 1983 |
| 4531 | Strange Case of Dr. Jekyll and Mr. Hyde, The | Stevenson, Robert Louis | 1983 |
| 4532 | Tale of Two Cities, A | Dickens, Charles | 1983 |
| 4533 | Man in the Iron Mask, The | Dumas, Alexandre | 1983 |
| 4534 | Great Expectations | Dickens, Charles | 1983 |
| 4535 | Prince and the Pauper, The | Twain, Mark | 1983 |
| 4536 | Captain Courageous | Kipling, Rudyard | 1983 |
| 4537 | Red Badge of Courage | Crane, Stephen | 2002 |
| 4538 | Frankenstein | Shelley, Mary | 2002 |
| 4539 | King Arthur and the Knights of the Round Table | Pyle, Howard | 2002 |
| 4540 | Jungle Book, The | Kipling, Rudyard | 2002 |
| 4541 | Hunchback of Notre Dame, The | Hugo, Victor | 2002 |
| 4542 | Wind in the Willows, The | Grahame, Kenneth | 2002 |
| 4543 | Gulliver's Travels | Swift, Jonathan | 2002 |
| 4544 | Invisible Man, The | Wells, H.G. | 2002 |
| 4545 | Legend of Sleepy Hollow, The | Irving, Washington | 2002 |
| 4546 | Rebecca of Sunnybrook Farm | Wiggin, Kate Douglas | 2002 |
| 4547 | Alice in Wonderland | Carroll, Lewis | 2002 |
| 4548 | Pride and Prejudice | Austen, Jane | 2002 |
Source: lostinthecloudblog.com